Hi Friends! How is your new year going? I hope well. Have you joined us for any of the challenges this year. I hope so and I hope you'll join us for our next challenge on the Simon Says Stamp Monday Challenge. Our theme this week is, Birds of a Feather. You can add a bird to your project, feathers or interpret the theme in an entirely different way if you'd like. For my project, I created a card with a fun and easy mixed media background that I have broken up into steps so you can see exactly how it all comes together. Join me below to see the process. Enjoy!
Also, don't forget to stop by and visit our guest designer for the month of January, Amber Sheaves from Pieces of Me. Her journal page last week was amazing!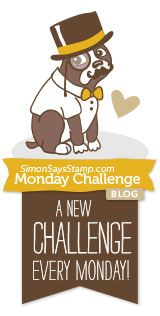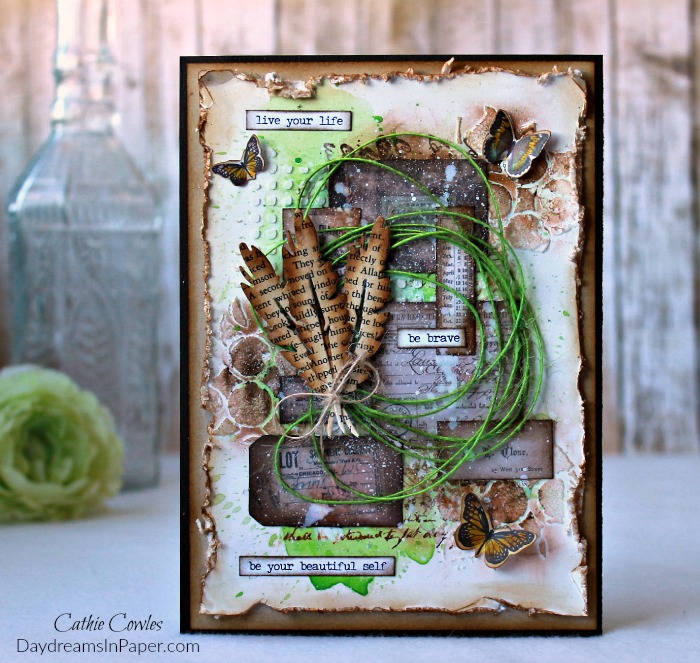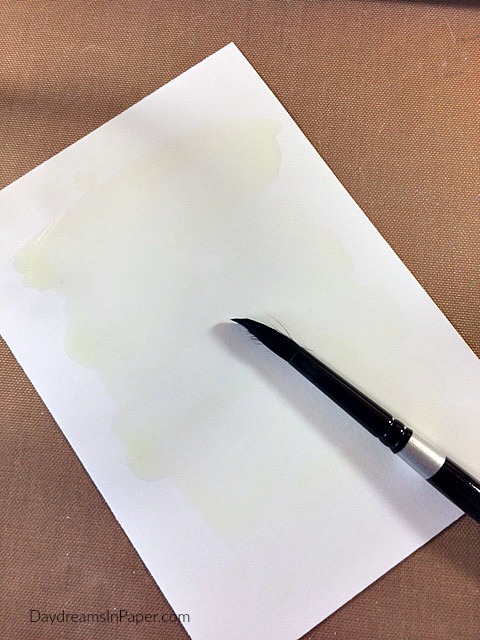 Apply a good amount of water onto a piece of Strathmore Bristol Watercolor paper.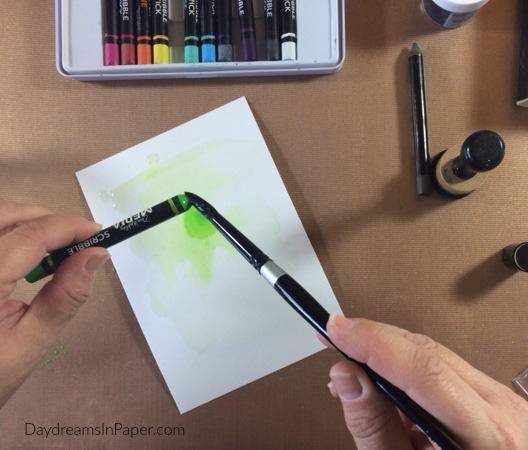 Dip watercolor brush in water and wet the tip of a Dina Wakley Lime Scribble Stick to load the pigment onto the brush. Paint on the pigment in random areas of the watercolor paper adding as much or as little as you want with the brush.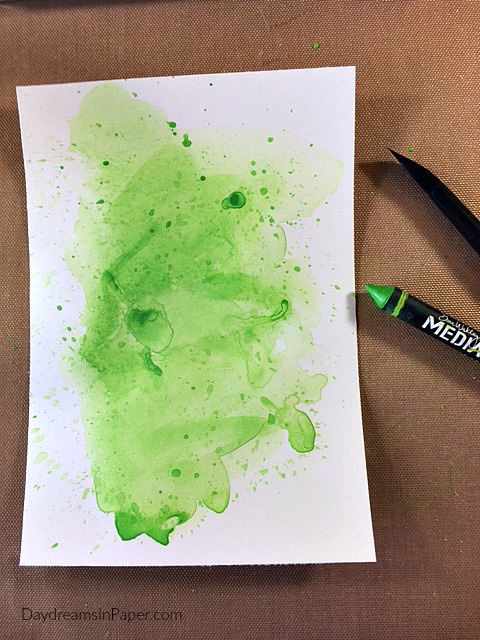 After applying the pigment to the watercolor paper, dry with a heat tool. Next, using the same process, instead of painting the pigment to the watercolor paper with the brush, hold the brush over the panel and flick the brush filled with pigment over the paper to add splatters. Allow to completely dry or dry with heat tool.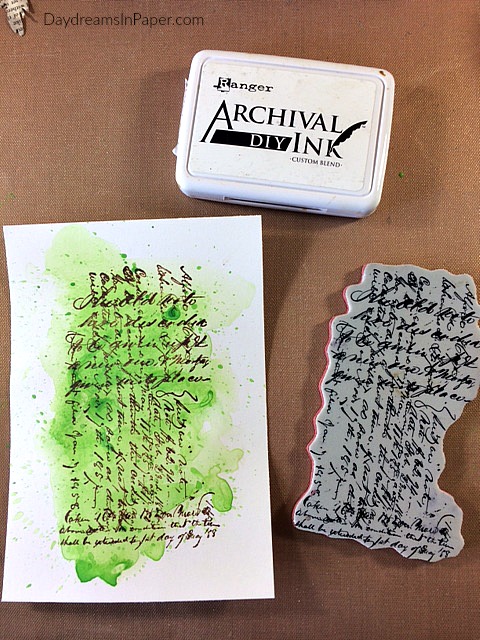 Stamp a background design over the watercolored  area. You can use any design you'd like, I chose the Tim Holtz Ledger Script background stamp with Vintage Photo Archival Ink. Allow to completely dry.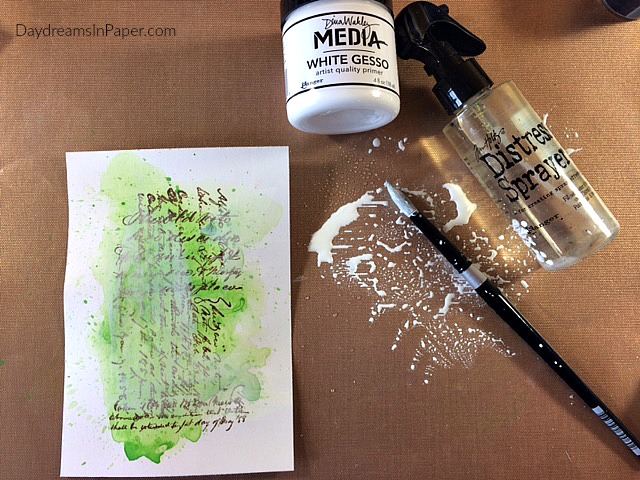 Create a mixture of white gesso and water and lightly brush over design. Dry with heat tool.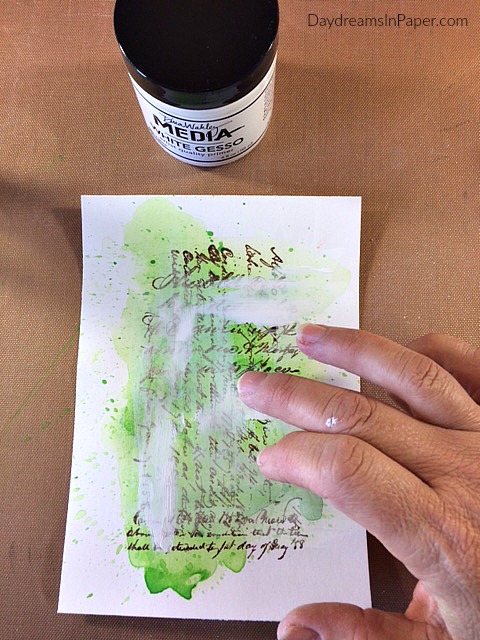 Using your finger tip, apply white gesso straight from the jar in random areas over the design. Allow to completely dry.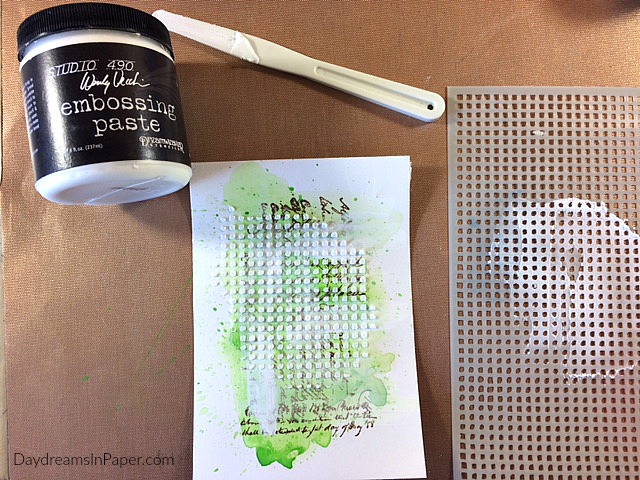 Add a stencil pattern to the center of the design with white embossing paste. I chose the Dina Wakley Plastic Canvas stencil.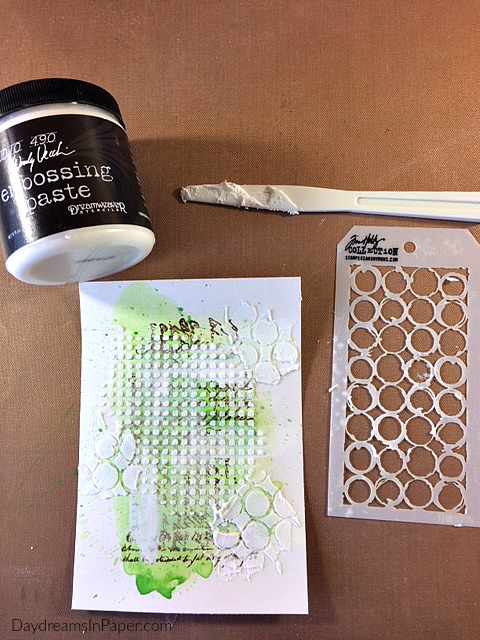 Next, apply another stencil to three random areas on the panel. I chose the Tim Holtz Mini Rings Stencil. Allow to completely dry.
Color over the mini stenciled areas with Vintage Photo Distress Crayon pigment and rub the pigment in with your fingertips.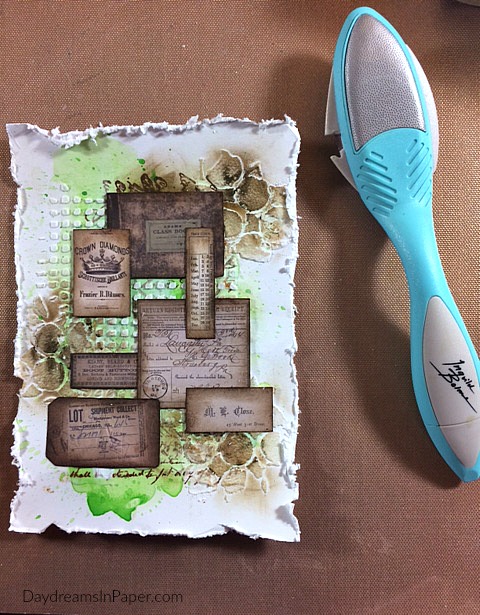 When everything is dry, add some pieces of ephemera from the Tim Holtz Snippets Collection that have been edged with Ground Espresso Distress Ink.  Next, distress the edges with a distressing tool.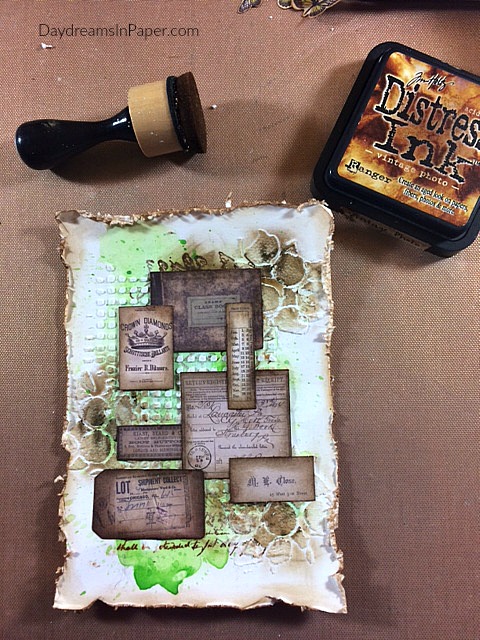 Lightly ink the distress edges with Vintage Photo Distress Ink.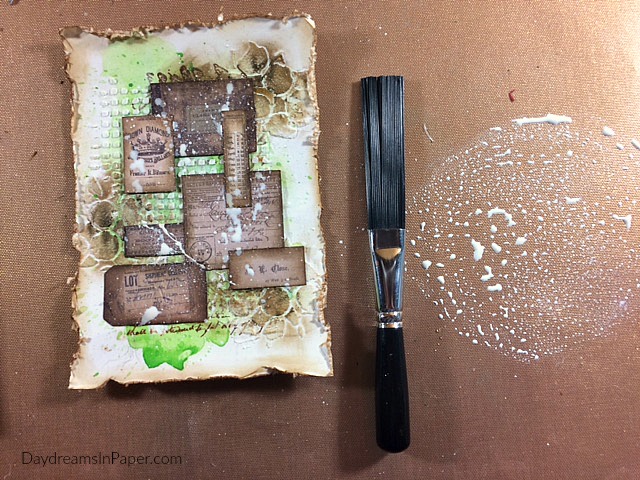 Create a mixture of white gesso and water and using a splatter brush, apply splatters to the panel. Add as much or as little as you like. Allow to completely dry and your mixed media panel is complete, All you have to do now is add elements to the panel to make it your own.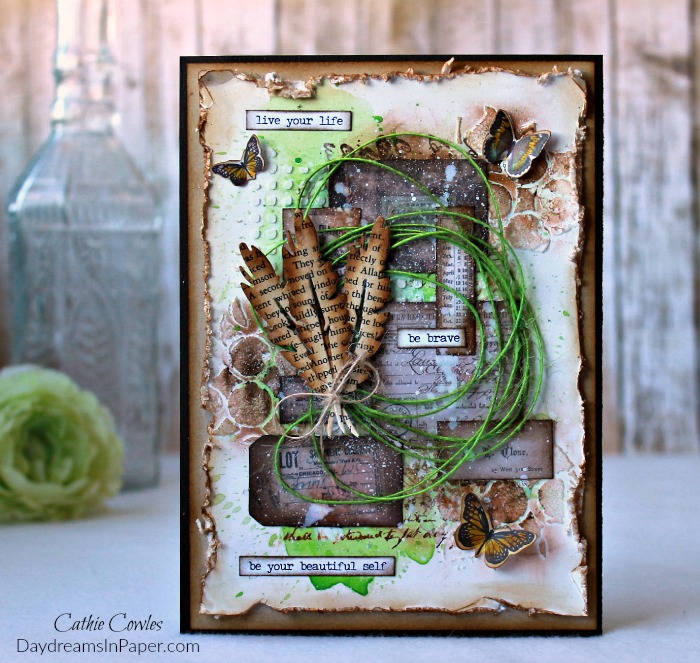 To complete the card, I add some feathers from the Tim Holtz Feathers & Raven die set that I create from book page paper. I cut another set of feathers from Neenah Solar White 110 lb. cardstock and adhere the book page feathers over the white cardstock feathers so they have some stability and won't tear easily. I secure the three feathers together with burlap twine and underneath, I add some May Arts Parrot burlap twine. I add a few butterflies from the Tim Holtz Snippet Ephemera set and some sentiments from the Tim Holtz Small Talk sticker set and the card is done!
I hope you enjoyed seeing how I put together the mixed media background for my card and that you join us on this fun challenge. I can't wait to see what you make! Don't forget you could win a $50 gift voucher from Simon's amazing store by linking your project to the challenge.